Exhibitions
Norbert has exhibited his works both at home and abroad since 1993.
2023
Galerie van Outsider Art, Amsterdam
Group exhibition
Drawings and mixed media
From 14 September to 4 November
The opening is on 12 October at 3 p.m.
Zomer Salon Royaal
From 22 July – 26 August 1 p.m. to 5 p.m.
Skin/Huid
Anton de Komplein 120
1102 DR Amsterdam Zuidoost
Kunst opdracht juli 2023
Both shirts were created by Norbert de Jong and availalbe on the website ofSophie Straat.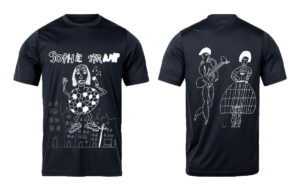 Expo
Museum Spelen
De Studio MHKA, MUHKA, België, Antwerpen
Opening 8 June from 7 p.m. to 11 p.m.
by the Flemish minister of Culture
The exhibition ends on 17 September
See website: muhka.be
Nest The Hague
3 March till 7 May
Opening on 3 March
from 3 March until 7 May
De Constant Rebecqueplein 20B, 2518  RA The Hague
070 3653186
info: nest.nl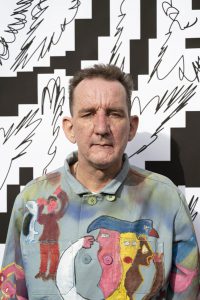 2022
19 October to 27 November
group exhibition Outsider Art Gallery
Exhibition title: Amsterdam
opening 27 October at 3 p.m.
Group exhibition 14 – 20 October 2022 at Micksartcollectief, Emmen NL
Kapitein Grantstraat 24, 7821 AR Emmen
7 May to 26 June, group exhibition
Outsider Art Gallery
Neerlandiaplein 1, 1018 DR Amsterdam
Open from Wednesday to Sunday 10 a.m. to 5 p.m.
Galerie Art Brut 058 te Leeuwarden NL, Boerhavestraat 3, from 30 March.
From 13 Mei tot 22 Mei, Art Brut Biënnale in Hengelo NL, an art fair of Outsider artists.
2021
Thursday 8 July from 7 p.m.
Outsider wear project, a mini fashion show in the Melkweg Lijnbaansgracht 234A 1017PH Amsterdam.
Norbert de Jong paints clothing from fashion designer Bonne
From 9 to 28 July the clothing along with other works by Norbert were exhibited at Galerie Droog in Staalstraat 7B 1011 JJ Amsterdam .The gallery is open from 8.30 a.m. to 6 p.m. Their website iswww.droog.com
2020
Norbert de Jong paints fashion clothing, designed by Firma Bonne.
Called Outsiderwear, a project by Bonne.
The project began October 2020 until March 2021.
Norbert painted two suits.
Bonne was the fashion designer.
Group exhibition
In the Gallery of Outsider Art in de H'art
Neerlandiaplein 7 – 1018DR Amsterdam
1 June 2020 until 31 July 2020
2019
Groepsexpositie Facing Spaces
In de Gallery of Outsider Art in H`art
Neerlandiaplein 7 – 1018DR Amsterdam
13 June to 11 August 2019
Assignment painting for the management of a taxi transport company
Munckhof in Zaandam
February 2019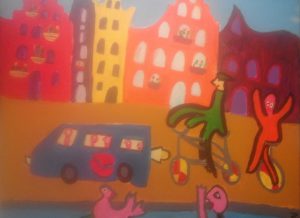 2018
Assignment Mural – Spreeuwen Park in Amsterdam North
Watergevecht  Water fight
housing for persons requiring assisted living.
July / August 2018
Gallery Via Lumina
Exhibition Outsider art, inspired by the Dutch Masters exhibition
Opening 17 May 1 p.m.
lasts until 3 June 2018
Exhibition together with Michiel Bottenberg
Voorstraat 152 in Dordrecht NL
opening: 4 February at 15.00
The gallery is open every Saturday and every first Sunday of the month
The exhbition lasts until 31 March 2018
link naar adres
2017
Atrium for the Sociale Verzekeringsbank
van Heuven Goedhartlaan 1
Amstelveen NL
opening 9 November 2017 at 16.30
2016
Hotel NH Brugge
Boeverierstraat 2
8000
Brugge Belgium
From 7 November 2016 to 7 May 2017
Outsider artists in Düsseldorf, Germany
Group exhibition from 9 to 20 October 2016
Open daily from 12 tot 6 p.m.
Location: Kulturbahnhof-Gerresheim
Heyestrasse 194 40625 Düsseldorf
www.kulturbahnhof-gerresheim.de
Exhibition Congres Center and Hotel Koningshof
Locht 117
5504 RM Veldhoven NL
Exhibition from 1 June to 1 December 2016
H`art, Amsterdam
Exhibition of Outsider are in the Gallery of outsider art in H`art
Exhibition from 30 June to 1 August
Group exhibition
H`art, Amsterdam
From 16 March: 5 works through Outsider Art on consignment
www.hermitage.nl/nl/tentoonstellingen/outsider_art
Galerie Flow, Maastricht
From February 2016: 5 works on consignment
Rechtstraat 96, 6221 EL Maastricht
www.galerieflowmaastricht.nl
2015
Global Village Amara, 17 – 25 oktober 2015 
Hoeve Amara, Bergen N-Holland
Stichting White Cube, http://stichtingwhitecube.nl/
FACE TO FACE , 2 – 4 oktober 2015
Haus Tornow am See, Duitsland
www.haus-tornow-am-see.de
Book 'Photography meets Artists 2'
This was created by Jo Goertz, photograph. She makes photo portrets of various artists, who in turn create an artwork of their photo portret. Norbert de Jong was a participant. More information available on the website of Johttp://www.jogoertz.de/outsider-buch-beschreibung.html.
The book is for sale in the Netherlands in the gallery of Outsider Art, Nieuwe Keizersgracht 1A, Amsterdam, www.amsterdam-outsider-art.nl/
Open Ateliers Centrum Oost, 2 en 3 mei 2015
Central Exhibition: Tropeninstituut Amsterdam
www.openatelierscentrumoost.nl
Outsider Art, 9 november 2014 – 15 januari 2015
Group exhibition
www.amsterdam-outsider-art.nl 
Kunsthaus-Kanne, Münster, 12 oktober 2014 – 25 januari 2015
Group exhibition
www.kunsthaus-kanne.de
2014
Hilton Hotel Innsbruck, Oostenrijk
Hilton Hotel München, Duitsland
2012
Noord-Zuid Lijn, Amsterdam Outsider Art
www.amsterdam-outsider-art.nl
2011
Galerie Herenplaats, Rotterdam, www.herenplaats.nl
The Affordable Art Fair, Westergasfabriek Amsterdam, www.affordableartfair.nl
2010
Het Ei-complex, Amsterdam, www.ei-complex.nl
Galerie Vorm en Beeld, Eefde, www.galerievormenbeeld.nl
Amsterdam Outsider Art, www.amsterdam-outsider-art.nl
2008
Kwartiermakersfestival, Amsterdam, www.kwartiermakersfestival-amsterdam.nl/
2006
Euro Art Evolution Internationale Kunstbeurs, Lelystad, www.euroartevolution.org
2005
Galerie Buuf, Amsterdam, www.galeriebuuf.nl.
DZD Art Galerie, Roermond
2004
Galerie Ipomal, Landgraaf
Galerie de Valk, Harlingen
Galerie Rudolf V, Amsterdam,
2003
Galerie Artatra, Zandvoort
Galerie Artseek, Baarn
2002
Galerie Laun & Grzyb, Wolmirstedt, Duitsland
2001
Galerie Année, Haarlem
Galerie Ipomal, Landgraaf
Open Ateliers, Amsterdam
Kunstfestival, Magdeburg, Duitsland
Multidutch Art Gallery, Amsterdam
2000
Galerie Rudolf V, Amsterdam
Galerie de Compagnie, Dordrecht
1999
Galerie Retouche, Volkel
augustus
Opdracht: schilderijen voor een etage en het restaurant van het Radisson Sas Hotel, Schiphol
Galerie Tussen de Poortjes, Hoorn
Galerie Langenberg, Amsterdam
1998
Galerie Herenplaats, Rotterdam
1997
Galerie Jardin des Arts, Bergen (NH)
Galerie 66, Amsterdam
1996
Haarlemse Kunstmanifestatie
Buiksloterkerk, Amsterdam
Art Expo 96, Rai Amsterdam
Centrum Pancratius, Blokker
Internationale expositie, Nice, Frankrijk
1995
Open Ateliers, Amsterdam
Delftse Kunstbeurs
1994
Boven IJ Ziekenhuis, Amsterdam
1993
Stadsdeelkantoor Oud West, Amsterdam
Stadsdeelkantoor De Pijp, Amsterdam